Hello hello! HUMP DAAAAAY! We are here for another WIAW (which I haven't done in awhile…oops).
Thank you Jenn at Peas and Crayons for link up!!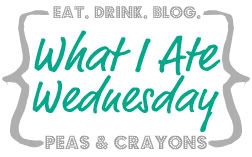 Breakfast: 8:30 a.m.

I have an issue. I drink a lot with breakfast. Like more than you probably should. And that pic doesn't include my 20 oz water bottle that I chug, too. SO, you've got my detox tea, Emergen-C and COFFEE. DOI.
These are my protein pancakes. Topped with melty peanut butter, bananas and honey!!! My fav right now.
Workout- Warm up with 10 minutes on the elliptical. Then I did an arms circuit workout:
Then I completed a back and bicep workout I got online at BodyBuilding. I couldn't necessarily find it. It consisted of: Lat pull downs behind the head, lat pull downs, seated cable row, bent over barbell rows, dumbbell rows, dumbbell curls. 
Lunch: 12:30 p.m.
Some leftover quinoa from the night before, steamed broccoli, and ground turkey. Topped with some Frank's of course. I also had some more broccoli dipped in hummus on the side. I had to get my fiancé some Pinnies for his coaching later. So I went to Dick's and got some, drove to his work and dropped them off. You're Welcome babe.
Snack: 2:30 p.m.
Strawberry Cheesecake Quest Bar topped with peanut butter that I almost forgot to take a picture of.
Workout- I went back to the gym and ran 5 miles on the treadmill. Yeaahhh. I would have done it outside but it has been like 90 and humid. Bleh. 
Dinner by myself. Meh. I made some meatballs for the fiancé since he was coaching late. They were delicious. I also made a sweet potato topped with brown sugar. Yummy. Don't worry I had two meatballs before I took this picture. While I was making them. Gotta test them you know??
Before bed snack: 8:30
I didn't take a picture, but I made a protein smoothie with Genetix-HD chocolate whey, a half frozen banana, some frozen strawberries and unsweetened vanilla almond milk. DELISH.
I hope you are all having a great Wednesday!!!
What was the best thing you ate yesterday??